Urbandale 4th of July Celebration
All Eyes on Urbandale - Celebrating 65 Years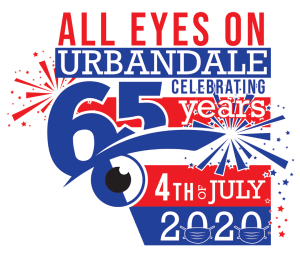 Updates Regarding COVID19
After careful consideration, the Urbandale 4th of July committee has decided to cancel all 4th of July events except for the Fireworks show. There were many factors taken into account, including the health and safety of our community and the ability to put on a successful event with the current crowd restrictions due to COVID-19.
Even a pandemic cannot stop the celebration of our nation's Independence Day and the Urbandale 4th of July Committee intends to mark that day with a grand Fireworks celebration! In order to accomplish this, we need the assistance of our fine community. The 4th of July committee will be selling special 2020 commemorative buttons and taking donations to fund the Fireworks show. Our hope is that every resident in Urbandale can safely watch the show while still avoiding crowds. We look forward to coming together as a community and celebrating our great Nation! Please look to the Urbandale 4th of July website and Facebook pages for more updates on how you can help!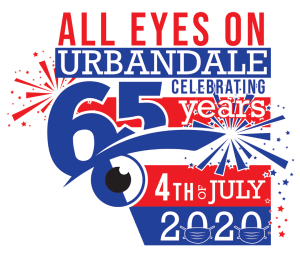 Urbandale is Home to one of the Largest 4th of July Celebrations in the Area!
We invite you to bring the family to celebrate Independence day in the community.  From a family-friendly street dance to carnival rides or a 2-mile long parade to a breathtaking fireworks display – the celebration has something for everyone!
Urbandale 4th of July Schedule of Events
Urbandale's celebration is full of a number of activities for every interest! The 2020 theme is "All Eyes on Urbandale" 
Parade
The Urbandale 4th of July Parade takes place beginning at 10 a.m. from the Old City Hall on 70th Street north to Aurora Avenue finishing at 82nd and Aurora.
All parade entries please be at your location by 9:00 a.m.
Button Sales & Winners for Fireworks Support
Urbandale is known for an amazing fireworks display.  The fireworks are shot off from Walker Johnston Park, located off of Douglas Avenue, just West of 86th Street.  To pay for the display, the 4th of July Committee partners with the Lion's Club to sell numbered buttons.  Local businesses donate prizes to support the effort.  Button numbers are drawn on the 4th to determine the winners of the prizes donated by local businesses.  Winning buttons numbers should be taken to the business awarding the prize.
4th of July Run Info 
Urbandale 4th of July Run was first run in 1966. The event has been run under different names and distances. In 1988 the race was not run due to no chairperson. The race in 1989 returned as William Courtney Memorial 10 K. After 2 years of excessive heat the route was changed in 1991 to present route and distance 5 K. A grade school mile was added 1996 in honor of Coach Chuck Silvey. The Coach Gary Page tot trot was added in 2000
Questions? Please email Larry Jablonski at – jabo19522@msn.com
2020 Urbandale Fourth of July Special Events:
2nd Annual Hot Dog Eating Contest
2nd Annual Bags Tournament
Bob Dabrieo Cribbage Tournament
Kids Activities and More!
Vendors
Urbandale's 4th of July Celebration is not complete without a wide range of food vendors and exhibits. You'll find them located along Prairie Avenue between 71st Street and 72nd Street on the south side of Lions Park. Looking for comfort food to satisfy your craving? A place to grab a quick meal with your family? How about a sweet treat just because? You can find it all at the July Urbandale 4th of July Celebration. Check out the wide range of options that await you.
Additional information regarding how to sign up to be a vendor will be released at the beginning of 2019. A complete list of vendors can be found here shortly before the Celebration.