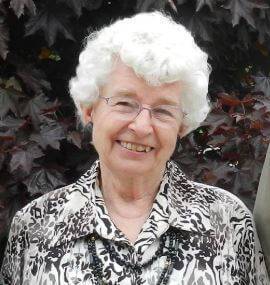 Virginia Gee has been selected to receive the prestigious Urbandale Hall of Fame award.  The award is given to the selected citizen during the organization's annual Sample Urbandale, A Celebration of Business event.  This year's award was given to Virginia Gee, a dedicated and influential volunteer for the Urbandale community.
Virginia has always been active in supporting Urbandale since 1969 when she moved to the area and joined the Urbandale Lion's club. In the 70s she was the founder of the Jensen Elementary PTA and helped with the Landscape Jensen. In the 80s Virginia helped organize the Urbandale Adult Education Program.
She currently serves on the Urbandale Historical Board, is active in the Urbandale Lions Club, Garden Club, Urbandale Community Action Network, Aldersgate Church Circle and Funeral Dinner Committee. She retired from the Urbandale Library, where she still volunteers. She is one of the founders of the Urbandale High School Fine Arts Booster Club. From 2013 – 2017 she served on the Centennial Committee for the 2017 Urbandale Centennial celebration. Virginia also contributes articles for Urbandale Living reporting about the history of Urbandale and Alumni Association.
Virginia will receive her award on November 15, 2018 at Holiday Inn Hotel and Suites during the 2018 Sample Urbandale, A Celebration of Business event.  Tickets are $35 each and can be purchased through the Urbandale Chamber at 515-331-6855 or www.uniquelyurbandale.com.  The event includes live music from Jason Walsmith, food sampling from area restaurants, wine sampling from WineStyles, silent auction and award ceremonies for Citizen of the Year, Business of the Year, Connector of the Year and "Best of Class" awards.
The Urbandale Chamber of Commerce is a membership-based business organization that serves its membership and business community by promoting economic development, business growth and a high quality of life.  Currently the Chamber serves 766 business members.
###